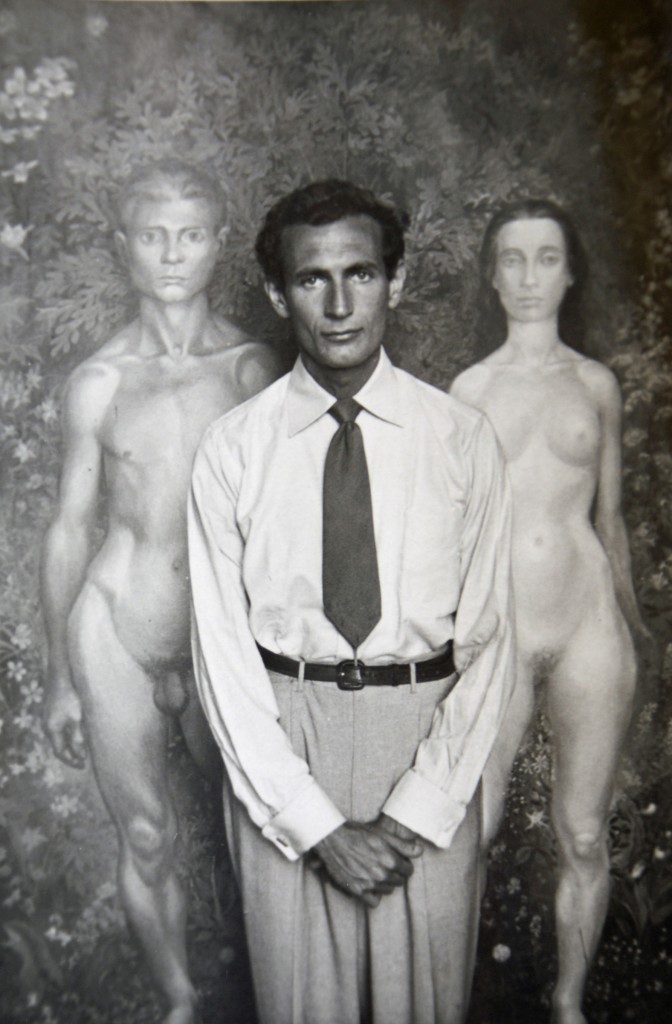 Bernard Perlin was an American artist most closely associated with the "Magic Realist" school of painting. Born in Richmond, Virginia in 1918, Perlin studied at the New York School of Design, National Academy of Design, and the Art Students League in New York. Early successes included a Kosciusko Foundation Award for study in Poland (1938) and two significant commissions: one from the U.S. Treasury Department for a mural for the South Orange, New Jersey Post Office (1939); the other from the U.S. Maritime Commission for murals for the SS President Hayes (1940).
After designing popular propaganda posters for the U.S. Government during World War II, Perlin became a war artist-correspondent for Life and Fortune magazines, embedding with commando forces in occupied Greece and later covering the war in the South Pacific and Asia. He stayed on to document the war's aftermath in Japan and China. Returning to the States, Perlin embarked on a series of "social realist" paintings, recording scenes of life on the Lower East Side of Manhattan. He also became a successful illustrator for magazines such as Harper's and Collier's, continuing his relationship with those magazines as well as with Fortune well into the 1960s.
Perlin lived and painted in Italy from 1948 until 1954 with the assistance of a Chaloner Foundation Award and a subsequent Guggenheim Fellowship. There, he began to move away from the social realism of his previous work and instead paint, in his words, "beautiful pictures": landscapes, still lifes, figures. He returned to New York to document the "cocktail culture" of the late 1950s, but in reaction to the rise of Abstract Expressionism, Perlin left the New York art scene for Connecticut in 1959. There, he continued his work as a figurative painter, although in switching from tempera to oil in the mid-1950s, his own work became increasingly more abstract. He continued painting until his passing at age 95 in January 2014.
Aside from many illustrious private collections, Bernard Perlin's art is in the collections of the Arkansas Arts Center, Little Rock; Art Institute of Chicago; Ashmolean Museum, University of Oxford; Columbus Museum of Art; Detroit Institute of Arts; de Young Museum, San Francisco; Fitzwilliam Museum, University of Cambridge; Hirshhorn Museum and Sculpture Garden, Smithsonian Institution; Leslie/Lohman Museum of Gay and Lesbian Art; Memorial Sloan-Kettering Cancer Center, New York; Museum of Art, Springfield, Massachusetts; Museum of Modern Art; National Academy Museum; National Portrait Gallery; Nelson-Atkins Museum of Art, Kansas City; Philadelphia Museum of Art; Princeton University Art Museum; Smith College Museum of Art; Smithsonian American Art Museum; Tate Modern, London; Virginia Museum of Fine Arts; and the Whitney Museum of American Art. His papers are held at the Beinecke Rare Book and Manuscript Library, Yale University.