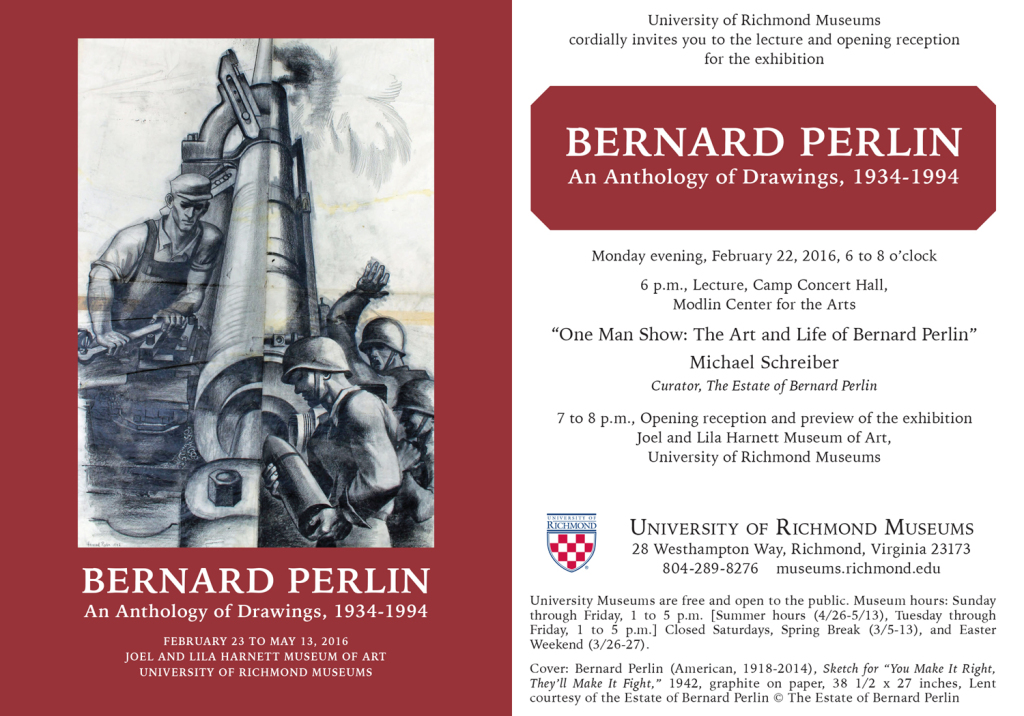 Bernard Perlin: An Anthology of Drawings
Joel and Lila Harnett Museum of Art
February 23 – May 13, 2016
Bernard Perlin: An Anthology of Drawings, 1934-1994 is on view February 23 through May 13, 2016, in the Harnett Museum of Art. Born in Richmond, Virginia, Bernard Perlin (American, 1918-2014) is most closely associated with the art movement and style known as "magic realism" that developed in the United States in the 1940s and 1950s. Recognized for his use of light and line in his paintings and drawings, Perlin's career spanned seven decades, and his art included wartime propaganda posters, depictions of New York society, views of Italy, magazine illustrations, portraits, self-portraits, and nudes. This exhibition is the first to assess the full scope of Perlin's mastery of drawing and includes more than seventy works from the 1930s to the 1990s.
Perlin received two important mural commissions early in his career as an artist. One was from the U.S. Treasury Department for a mural for the South Orange, New Jersey Post Office in 1939, the other from the U.S. Maritime Commission for murals for the SS President Hayes in 1940. During World War II, he began designing popular propaganda posters for the U.S. Government and later became a war artist-correspondent for Life and Fortune magazines. Upon returning to the United States he embarked on a series of "social realist" paintings that recorded people and scenes from Manhattan's Lower East Side.
While living in Italy between 1948 and 1954, Perlin began to move away from social realism and instead painted landscapes, still lifes, and figures. From 1959 he lived in Connecticut and was painting figuratively but becoming more interested in making abstract paintings. His work is in numerous collections, including the Museum of Modern Art and the Whitney Museum of American Art, New York; the Art Institute of Chicago; the de Young Museum, San Francisco; the Smithsonian American Art Museum and the Smithsonian's Hirshhorn Museum and Sculpture Garden, Washington, DC; the Virginia Museum of Fine Arts, Richmond; and Tate Modern, London.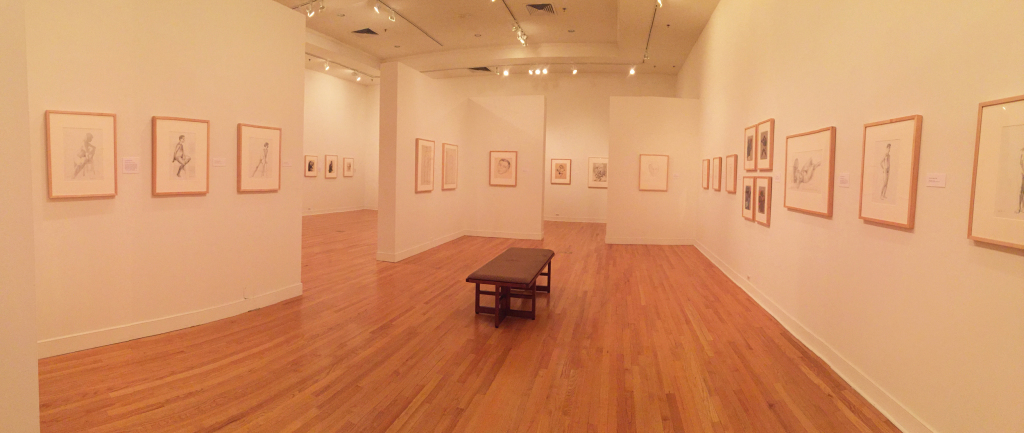 Highlights of the exhibition include the sketch for a 1942 commercial lithograph poster printed in color by the U.S. Government Printing Office and issued by the U.S. Office of War Information titled You Make it Right…They'll Make it Fight; a graphite drawing on tracing paper of Winston Churchill in Cairo from 1943; The Lomokome Papers, illustrations for an article by Herman Wouk that appeared in Collier's magazine, February 17, 1956; and portraits of celebrities and models. Most were drawn using the silverpoint technique, a medium that the artist excelled in. Four studies of boxer Joe Frazier from 1972, which were commissioned by Sports Illustrated magazine are included, and Perlin created these sketches while he watched Frazier train in a New York gym.
Michael Schreiber, curator of the estate of Bernard Perlin and curator of the exhibition states, "I'm delighted to see this first thorough showcase of Bernard Perlin's incredible works on paper be presented in his beloved hometown of Richmond. Bernard Perlin was an extraordinary figure in twentieth-century American art whose work is at last getting the attention it deserves."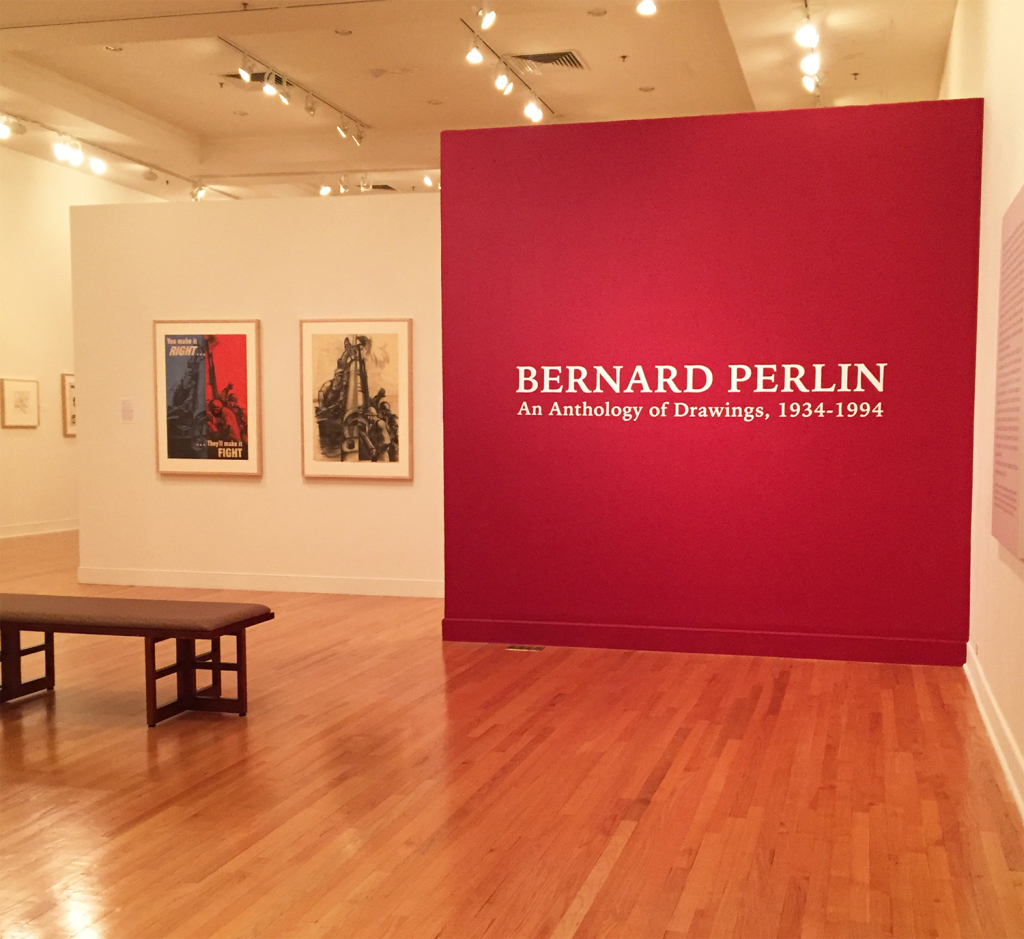 Organized by the University of Richmond Museums, the exhibition was curated by Michael Schreiber, Curator, The Estate of Bernard Perlin, and Richard Waller, Executive Director, University Museums. The exhibition and related programs are made possible in part with funds from the Louis S. Booth Arts Fund. An accompanying book by Michael Schreiber, One-Man Show: The Life and Art of Bernard Perlin, published and distributed by Bruno Gmünder Verlag, Berlin, is available.
---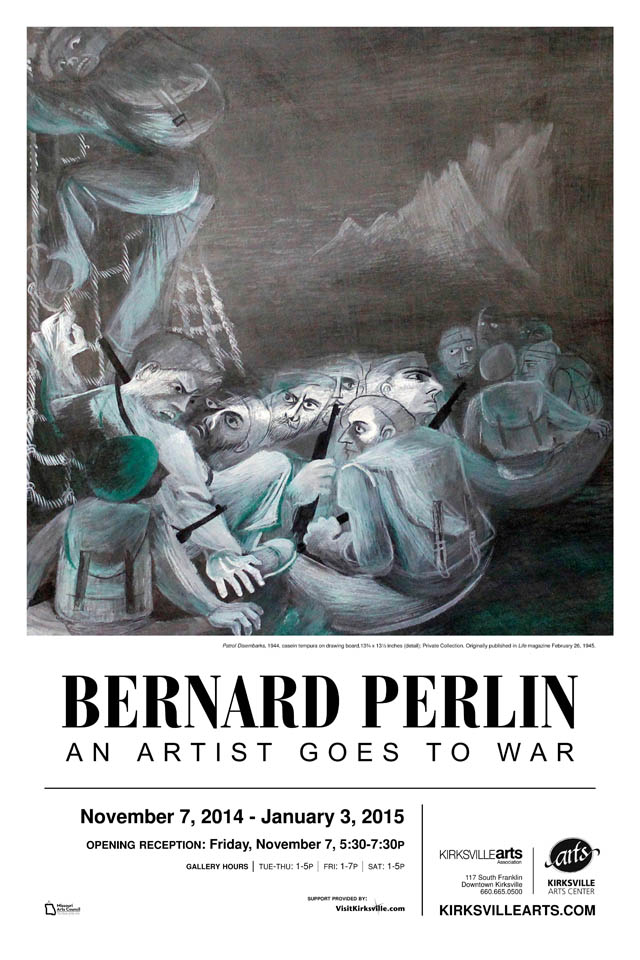 Bernard Perlin: An Artist Goes to War
Kirksville Arts Center
November 7, 2014 – January 3, 2015
Artist Bernard Perlin designed some of the most iconic American propaganda posters of World War II. As an artist-correspondent for Life and Fortune magazines, he sketched major generals and noted political figures. Perlin accompanied commando missions into Nazi-occupied Greece, recorded the preparations for the final "air war" on Japan, and was aboard the USS Missouri – the "Mighty Mo" – for the formal Japanese surrender. He remained in Asia to document the war's aftermath.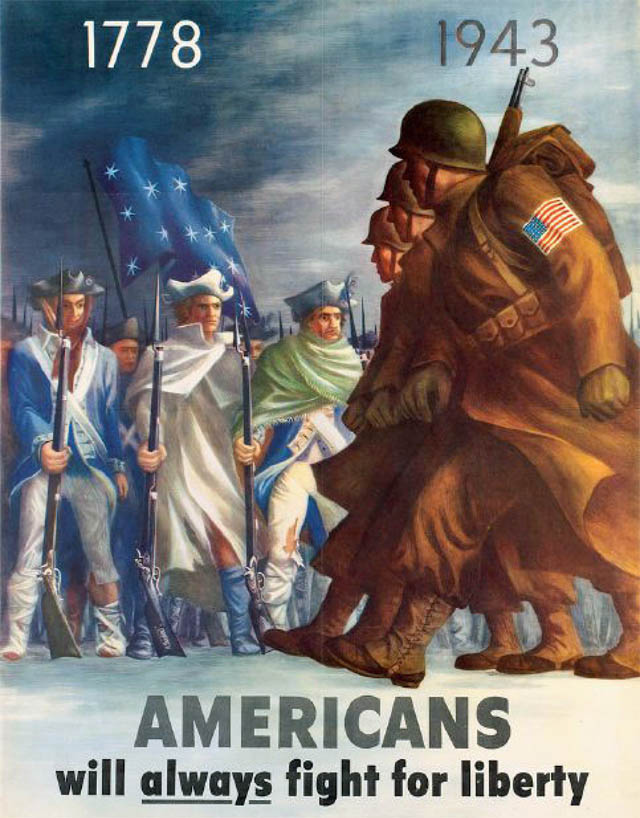 Upon his return to the United States, Perlin became a noted painter, with works now in the Smithsonian, Museum of Modern Art, and other major museums. His illustrations continued to appear in popular magazines through the 1960s. Though he retired in 1970, Perlin continued to paint until his death in January 2014 at the age of 95.
---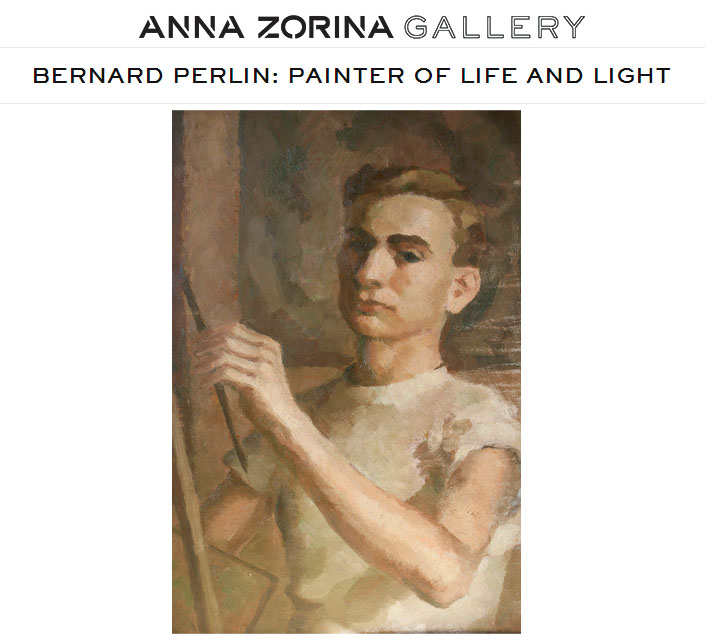 Bernard Perlin: Painter of Life and Light
Anna Zorina Gallery
June 30, 2014 – July 19, 2014
Bernard Perlin: Painter of Life and Light is a retrospective of the recently deceased Bernard Perlin (1918 – 2014). The great American artist will be celebrated for his luminous palette and fastidious style, which he bestowed upon us for nearly seven decades. The genesis of his work varied immensely over the years – each derivation shifting in accordance with his residence, occupation and age to reflect his surrounding social climate. His notable technical finesse and his illustrious use of color define his style and serve as the uniting thread within his life's work.
Born in Richmond, Virginia, Perlin's career was launched during his involvement in World War II. He worked with the Office of War Information and then as a war artist-correspondent for Life and Fortune magazines. His subject matter ranged from political propaganda to reportage to self-declared realism. It was in this period that he began to translate brutal accounts of violence into visions of color and composition, rendering acts of war into detailed and forceful expressions of power, action and somber rumination.
Perlin instilled artworks with his insatiable desire to explore and push boundaries to the limit. He was greatly inspired by his surroundings, and as he traveled the world he found himself in constant flux, varying his technique, subject matter, and mood to reflect his mercurial and vivacious life. One notable instance occurred after Perlin's move to Italy in 1948. Inspired by the works of the Pre-Raphaelites as well as the change in scenery, Perlin replaced his hard edges and flat, color-blocked figures with light, airy brushstrokes. This newly adopted technique created soft, luminous patches of color and conveyed whimsical, dreamlike scenes. Perlin continued to undergo significant aesthetic changes throughout his long artistic career.
This retrospective offers an in-depth visual analysis of the many style shifts that Bernard Perlin's figural work underwent from 1935 through 2012. Perlin focused on architecture, landscapes, and still lifes. However, it was through his depictions of humanity and the people in his life that he was able to express the most emotion, show the greatest transformation, and convey the highest level of artistry.
---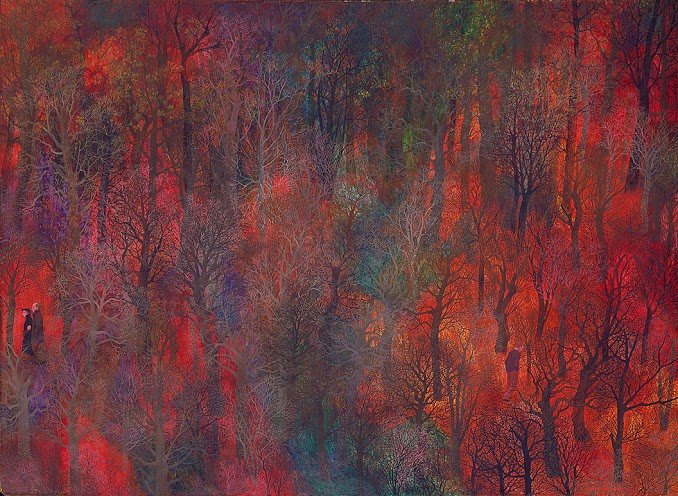 Modern American Realism: The Sara Roby Foundation Collection
Smithsonian American Art Museum
February 28, 2014 – August 17, 2014
In 1986, the Sara Roby Foundation gave to the Smithsonian American Art Museum an extraordinary collection of paintings, sculpture and works on paper that encompasses the range of what can broadly be called realism, from socio-political to psychological to satirical and surrealist. Modern American Realism: The Sara Roby Foundation Collection revisits this collection by presenting a selection of more than seventy artworks from the permanent collection. The exhibition includes works from the 1910s to the 1980s by artists such as Will Barnet, Isabel Bishop, Paul Cadmus, Arthur Dove, Nancy Grossman, Edward Hopper, Wolf Kahn, Yasuo Kuniyoshi, Jacob Lawrence, Reginald Marsh, Bernard Perlin, Ben Shahn and Honoré Sharrer among others. The artworks on display were selected by Virginia Mecklenburg, chief curator. Bernard Perlin's painting The Farewell (shown above) will be included in this exhibit.